"about: documenta" at the Neue Galerie – Reopening of the documenta fifteen room
23.5.2023
© Dan Perjovschi
© Dan Perjovschi
From May 26, the curatorially redesigned exhibition space for documenta fifteen will be reopened. We are especially pleased that we could win the Romanian artist Dan Perjovschi to design a wall especially for the new space.
With his critical and yet humorous stenographs on the crises and conflicts of our time, Perjovschi has created one of the central artistic interventions of documenta fifteen on the columns of the portico of the Fridericianum
The permanent exhibition "about: documenta" - a joint project of hessen kassel heritage and the documenta archiv | documenta and Museum Fridericianum gGmbH realized in November 2019 - provides an overview of 70 years of documenta history.
What began in 1955 with the first documenta under difficult conditions in the makeshift Fridericianum in Kassel, destroyed during the war, grew under founder Arnold Bode and subsequent artistic directors into one of the largest art events worldwide. The presentation in the Neue Galerie, which has now been expanded to include the most recent documenta edition, takes visitors on a journey through time along significant works of art, scenographies, models, films, images, and documents in the history of the art show, which can always be read as a seismogram of artistic, social, and political current events.

documenta fifteen, which ended in September 2022 and was curated by the Indonesian collective ruangrupa, set in motion a media debate about the limits of artistic freedom that continues to this day and extends far beyond the Western art world. Under the impression of the accusations of anti-Semitism raised since January 2022, central principles of the exhibition, such as the communal sharing of global resources or the sustainable use of them, receded into the background. The presentation in the Neue Galerie now sheds light on selected artistic projects of the past summer.

The new presentation was curated by Dorothee Gerkens (Director Neue Galerie), Birgitta Coers (Director documenta archiv), Julius Lehmann (Research Associate documenta archiv), Harald Kimpel (freelance author and art historian).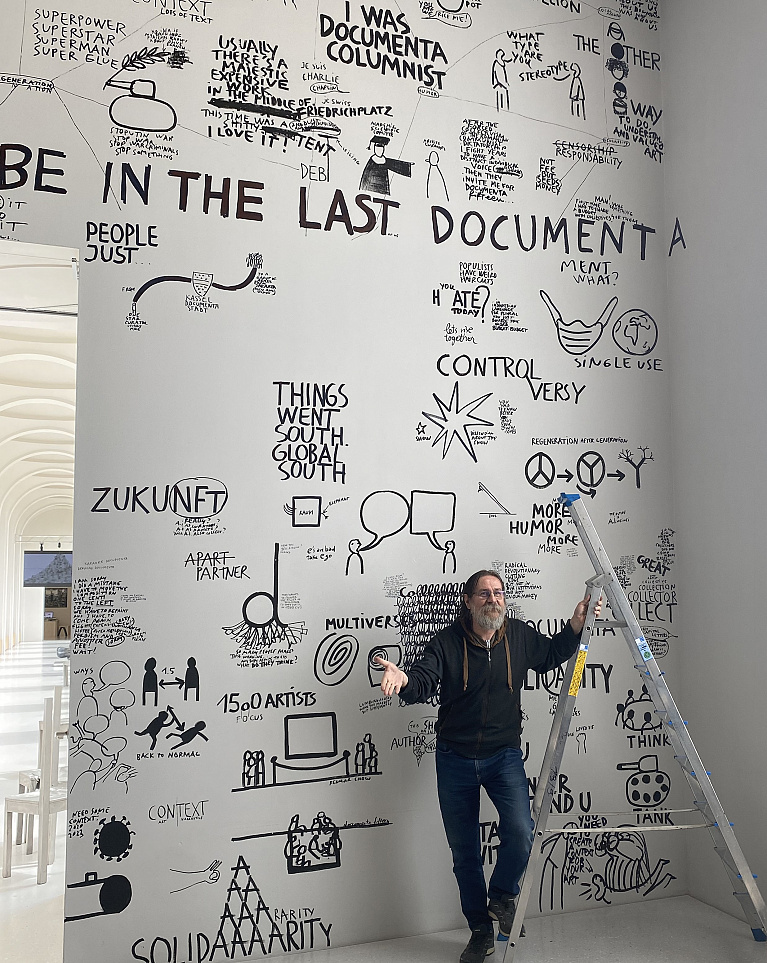 Foto: Julius Lehmann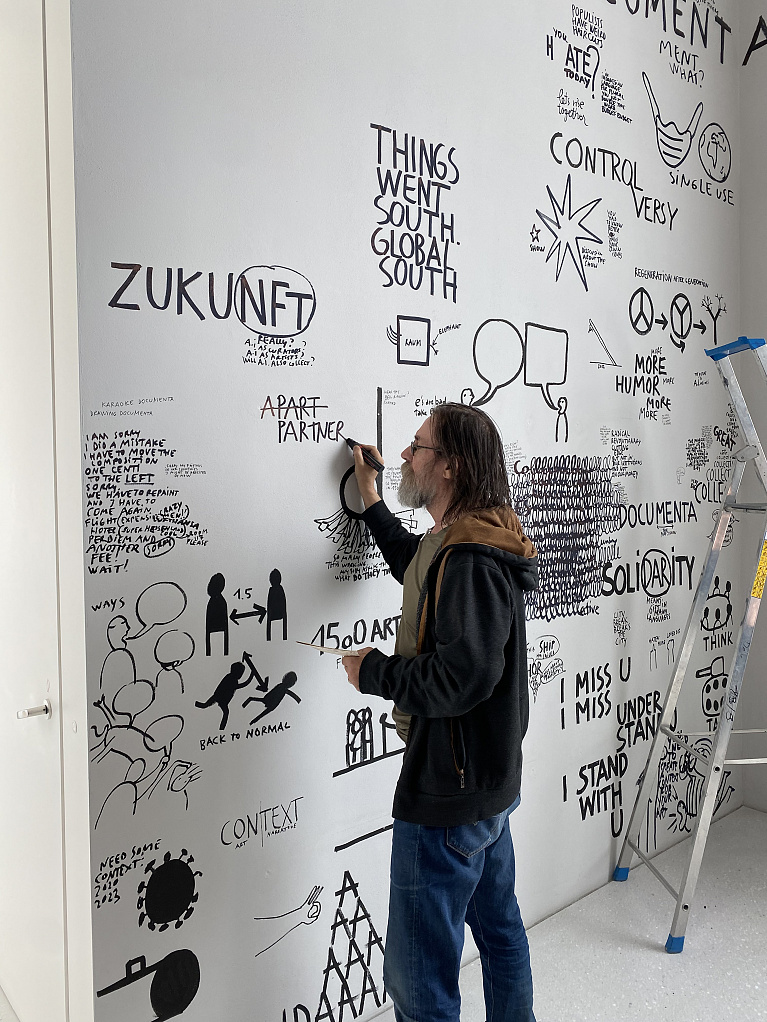 Foto: Julius Lehmann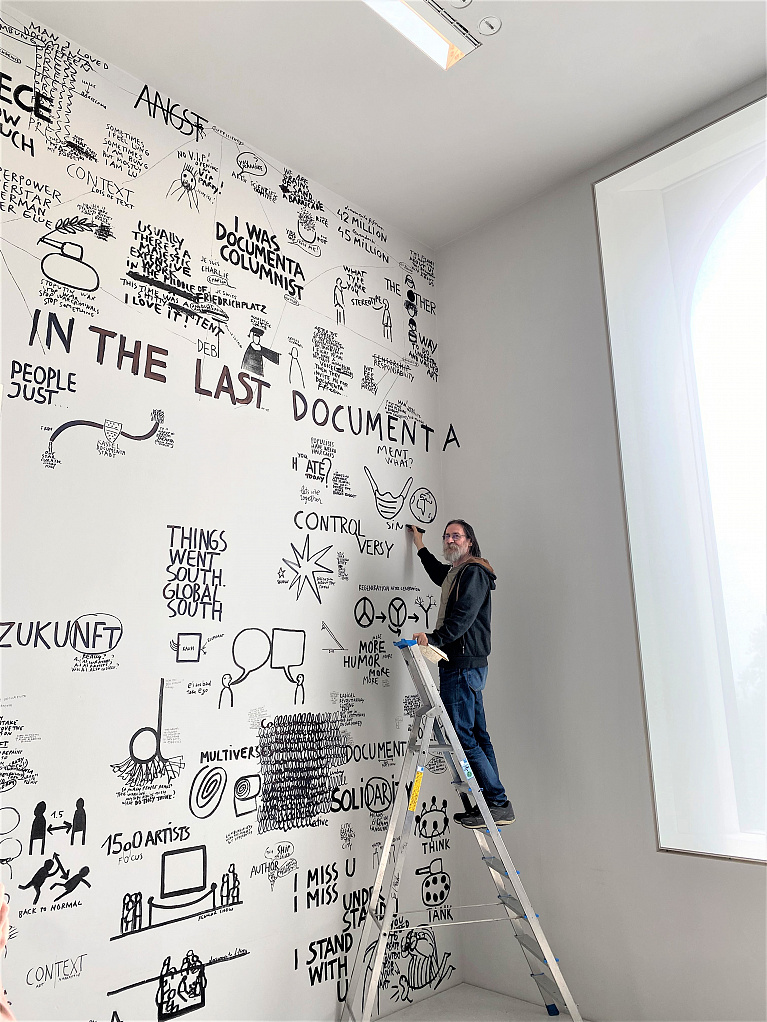 Foto: Julius Lehmann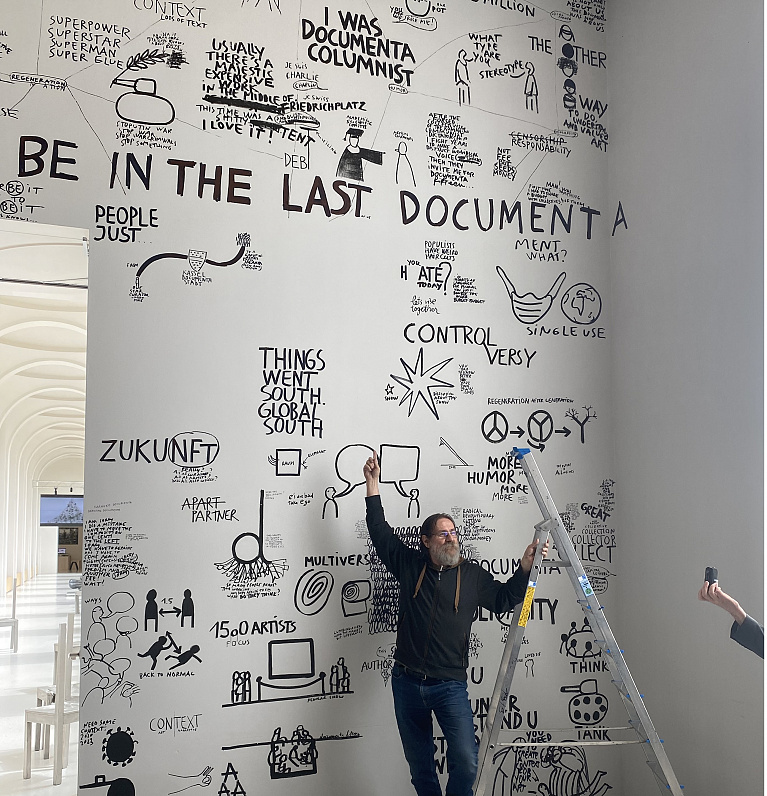 Foto: Julius Lehmann