© documenta archiv / Anita Back
In documenta archiv's media collection, analog and digital media from documenta exhibitions is acquired, collected, developed and preserved. Over the past decades, the collections have steadily grown through the donations and purchases of the estates of individual curators, artists, and photographers.
The photography collection consists of photographers' collections, press material from past documenta exhibitions, submissions from artists, and image material submitted by the public for competitions and other purposes. Furthermore, the archive acquires and archives all image material from Kunsthalle Fridericianum. The collection of photographs comprises approximately 250,000 photographs.
The audiovisual collection houses excerpts of film and video works presented at documenta exhibitions as part of the film program or as artworks. In addition, the audiovisual collections focus on the documentation of all documenta exhibitions. The collection of sound recordings includes not only works commissioned for the documenta exhibitions, but also sound recordings of lectures and interviews. The audiovisual collection contains approximately 2,000 analog records and approximately 25 TB of material in digital formats.
On-site access
At the archive, access can be granted to analog photographs as well as audio and video tapes by appointment. A room for groups of up to 25 participants is available if reserved in advance.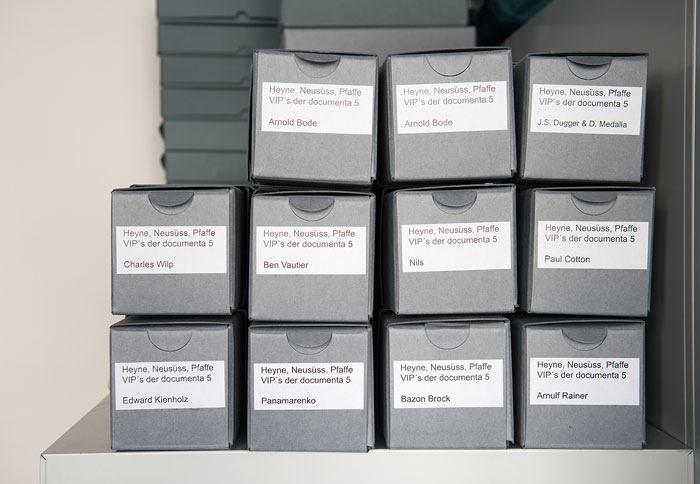 © documenta archiv / Anita Back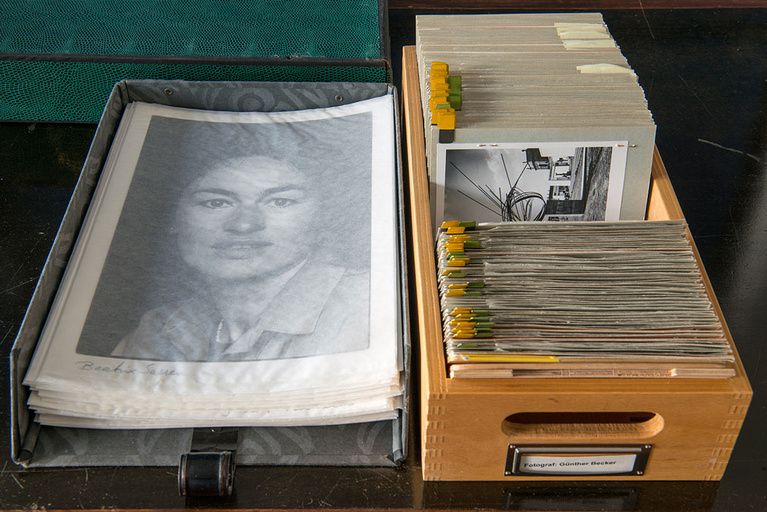 © documenta archiv / Anita Back
© documenta archiv / Anita Back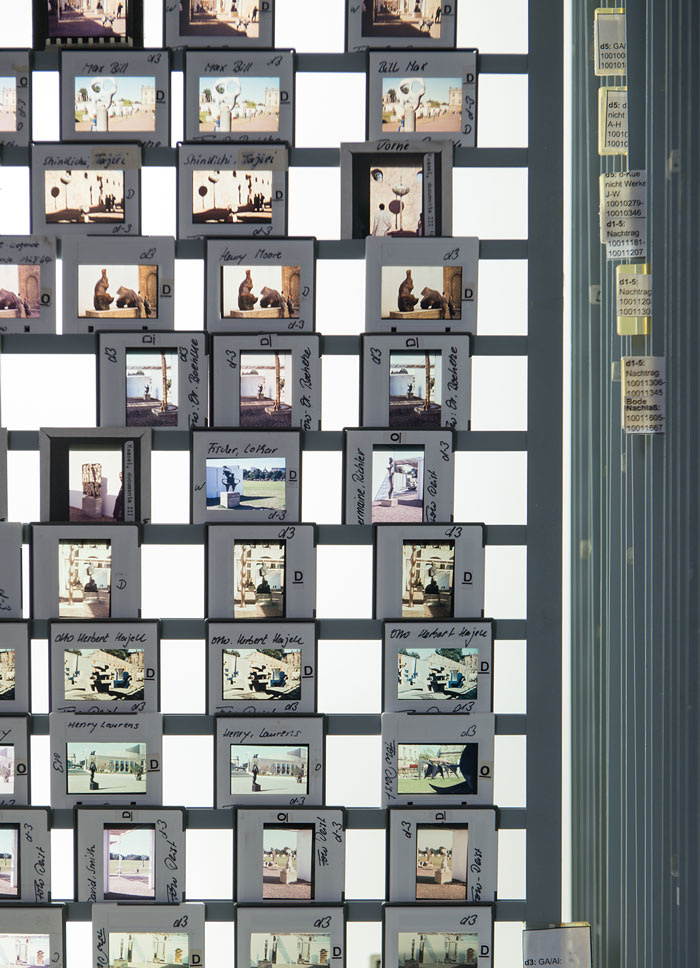 © documenta archiv / Anita Back
© documenta archiv / Anita Back
Copyright and On-Site Usage
In compliance with copyright legislation and privacy rights – a large part of the digital image holdings are available in exchange for a fee.
Original (analog) photographs and audio- and video tapes can be accessed on-site in the reading rooms of the documenta archiv with prior appointment. For groups of up to 25 participants, a room is available in the same building if booked in time.
Copyright Information
1. The use of images for research and teaching
Digital materials that are not of publication quality and media files such as videos have been made accessible for online research and labelled accordingly. These may be used for teaching purposes in universities, for school lessons, and for academic research without a license and free of charge. If you wish to use images for publication purposes, you must take into account possible third-party copyright claims and independently obtain the authorization to publish them.

The following information should help provide a better understanding of copyright law in order for individuals to adequately determine what can be expected and understand the claims of third parties.
2. The division of copyright protection for artworks and for photos of artworks

(a) Copyright protection for an artwork, generally referred to as a "Werk" in German copyright law:

The author of the artwork is the artist. The rights to the work belong to him or her and will be transferred to his or her heirs until 70 years after his or her death (§ 64 UrhG). After this, the copyright expires and the artwork enters the public domain.

The copyrights for many artists, although not all, are controlled by the copyright association VG Bild-Kunst in Bonn until 70 years after their death.

For every usage, publication (book, journal, etc.), or creation of public access (internet), approval must be obtained from VG Bild-Kunst, or the respective legal representative, and a fee must be paid if applicable.

(b) Copyright protection for a photograph of an artwork, referred to as a "Lichtbild" or "Lichtbildwerk" in German copyright law:

Photographs of artworks, referred to in German as "Lichtbilder" oder "Lichtbildwerke," are also copyright protected (§ 72 UrhG, known as ancillary copyright). A "Lichtbild" is created through the simple technical photographing of a most often two-dimensional original work. The protection expires 50 years after the production of the photograph, or 50 years after its first permitted appearance. If the photograph exhibits qualities of an artwork due to creative choices made in terms of the viewing angle and the lighting, it is considered a "Lichtbildwerk" and is protected as such until 70 years after the death of the photographer (§ 64 UrhG). A photograph of a three-dimensional original work (a sculpture, for example) is generally considered a "Lichtbildwerk."

For every usage, publication, or creation of public access, permission must be sought from the photographer or responsible institutions (such as image archives, publishers, VG Bild-Kunst).

documenta archiv always makes an effort to identify the appropriate copyright holders for both categories of photographs.
3. Approval for publication

documenta archiv strives to create contracts with copyright holders of the photographs, the artists, the photographers, other image archives, publishers, and other parties, so that permission for non-commercial, academic publications can be issued directly by documenta archiv. Relevant information can be obtained on the documenta archiv website or by contacting the staff of the media collections directly.