Information
The documenta archiv is an institution for the preservation, documentation and scientific research of text and image based resources on modern and contemporary art.
Untere Karlsstr. 4, 34117 Kassel
+49 56170727-3100
News

Event
14.–19.11.2017
The documenta archiv has created a 7-minute short film with the title "documenta 14 entýposis" for the 34th Kassel Documentary Film and Video Festival. It is a multifaceted, varied and informative collage of many moments from the documenta Summer with the focus on the performances and public events of the world art exhibition in Athens and Kassel.
From the documenta archiv
5.11.2017
On the occasion of the completion of the cataloguing of the personal papers by Hans Hillmann, a documenta 3 artist, the documenta archiv is pleased to announce the comic concert to his graphic novel "Fly Paper" orchestrated by yam yabasha ensemeles from Berlin at the Gloria Cinema, Kassel on November, 5th 2017, 5 pm.

Event
11.–15.10.2017
Like in the previous year, the documenta archiv takes part again at the Frankfurt Book Fair as part of THE ARTS+. The Creative Business Festival of the Book Fair is held this year under the motto Be Bold.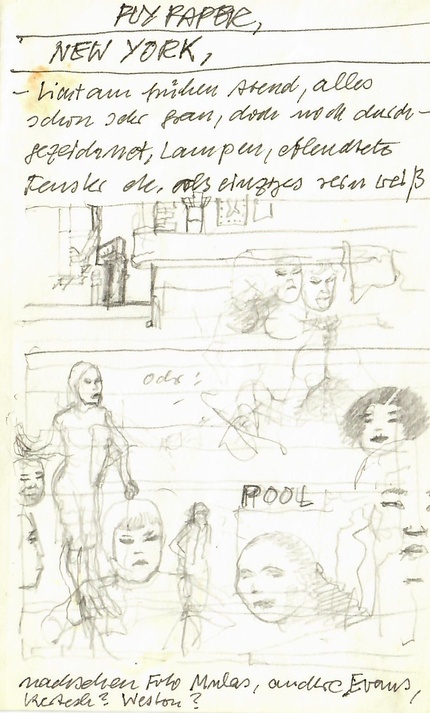 docArt of the Month
October 2017
In 1975 Hans Hillmann (1925–2014) had the idea of trying to tell a story in images while making only sparing use of text, and he decided that the succinctly worded crime story story "Fly Paper," written by Dashiel Hammett (1894–1961) in 1929, would be a good starting point for developing this idea.