#38 "Unloading a pile of crap - How long are you willing to be teased?" A protest during documenta 5
September 2019
© documenta archiv
External events and even protests have taken place during documenta exhibitions on multiple occasions. The fifth documenta exhibition in 1972, which was curated by Harald Szeemann (1933-2005), prompted one such occurrence. His concept with the title "Questioning Reality — Pictorial Worlds Today" perplexed many at the time. He was no longer solely concerned with "high art," but instead interested in the whole spectrum of visual worlds that occupy the categories of "high" and "low." The "Individual Mythologies" of artists were juxtaposed with what were referred to as "Parallel Visual Worlds" in the form of pious artworks, kitsch, advertisements and commodity aesthetics, or the "pictorial art of the mentally ill." This proved overwhelming for many visitors at the time, who now had to decide for themselves what qualified as art.
And, of course, it set the scene for opposition. One of the most extreme reactions was that of Thies Christophersen (1918-1997), a farmer, publicist, and publisher from Schleswig-Holstein. As a Holocaust denier, he was a central protagonist in Neo- and Alt-Nazi circles, and had banded together with a group called "The Peasantry for Law and Justice" to carry out several public actions with like-minded individuals.
In a protest against documenta, he rented a tractor and trailer in Hannover Münden and drove to Kassel on the night of July 22, 1972. He proceeded to unload two piles of dung at Museum Fridericianum, which the night watchman called in to the police at 5:13 a.m. Two banners with the following inscription were set up on the dung heaps:
Noble art is mocked
when beauty is subjected to scorn.
That disgust itself can be declared art,
is what documenta has taught
To anyone who insists
that crap doesn't belong here,
we say that there is more crap
at documenta.
The Peasantry
In addition to these banners, Christophersen and his co-conspirators smeared documenta with brochures and flyers featuring similar slogans.
The police reacted immediately and had the dung removed within three hours. Two days later, the city of Kassel billed Thies Christophersen 37 Deutschmarks and 30 Pfennig for its removal. A short article from July 25th reported: "Christophersen is getting away with this for cheap. The Scandinavian group of Situationist artists had to pay 596 Marks for the removal of their anti-documenta object made of timber and scrap from the Fridericianum." Christophersen and his lawyer Manfred Roeder protested, insisting their action was a contribution to documenta that corresponded to the means of expression of the exhibition in form and character. The dispute continued and criminal proceedings were finally brought against Christophersen and Roeder on August 10th at the public prosecutor's office in Kassel "for gross mischief."
Birgit Jooss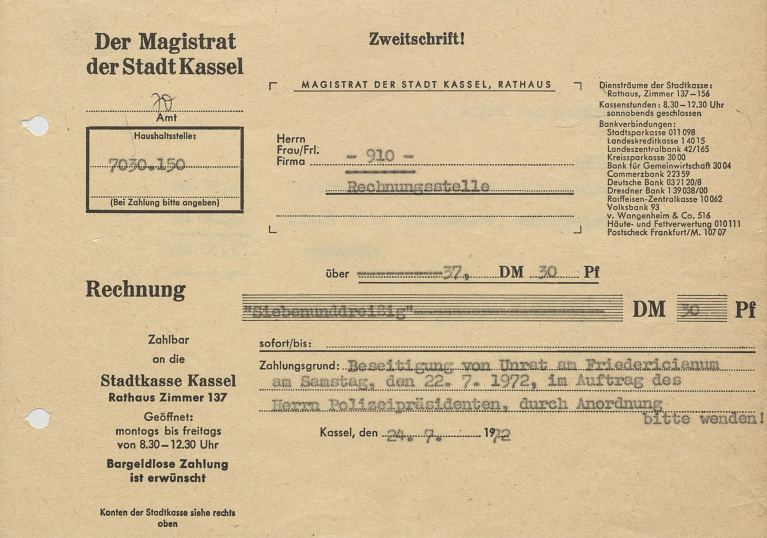 © documenta archiv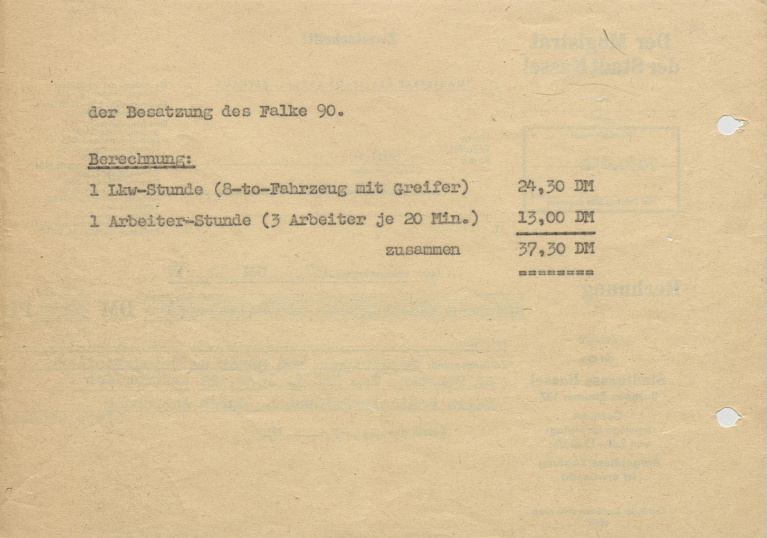 © documenta archiv