#35 Panamarenko - 1969, 15m, 30kg
June 2019
© documenta archiv
The first exhibition catalogues by the Städtische Museum Mönchengladbach under the direction of Johannes Cladders (1924-2009) showed that a catalogue can give visitors the opportunity to take a piece of the art experience with them. This was also the case at the exhibition of Panamarenko (born 1940) in 1969. Limited to 330 copies, the book object is now sold as a rarity, whereas at the time it was available for 5 DM.
The catalogue was published in the form of a brown box with a photograph of a man next to an airplane on the cover. When opening the box in eager anticipation a brown string appears with one end attached to the lid and the other end attached to the bottom of the box. On the back the words "PANAMARENKO" and "THE AIRCRAFT" catch the eye.
The cord has the length of the largest span of the exhibited flying object, 15m. The catalogue object creates a haptic experience and, together with the experience of the exhibition, it awakens the longing for flying.
Aluminium tubes, wire ropes, V-belts, bicycle saddles and handlebars, 2 bicycle pedals and 2 bicycle rims each, 6 polystyrene wings covered with canvas produce 30 kg and the dream of a flying machine, combining technology and art in equal measure, and highlighting an otherwise very present separation of science and art. Unlike the technically developed and functional airplane on the cover, Panamrenko's flying object surrenders to the idea of being able to fly, and therefore creating a new, surreal object that - not completely ignoring physical principles - shows an interpretation of an alternative time. This is also where Panamarenko's surrealism is founded. In his way of researching, reminiscent of Leonardo da Vinci (1452-1519), the speculative use of technical possibilities creates a metaphysical depth.
Panamarenko also exhibited a flying object at documenta 5. The flying object "the Aeromodeller" is similar to a transparent zeppelin. The cabin of the zeppelin looks like an abandoned caravan. Here, too, the object is able to create ideas of what reality might look like, imagining what the "Aeromodeller" would look like in the sky.
Malene Saalmann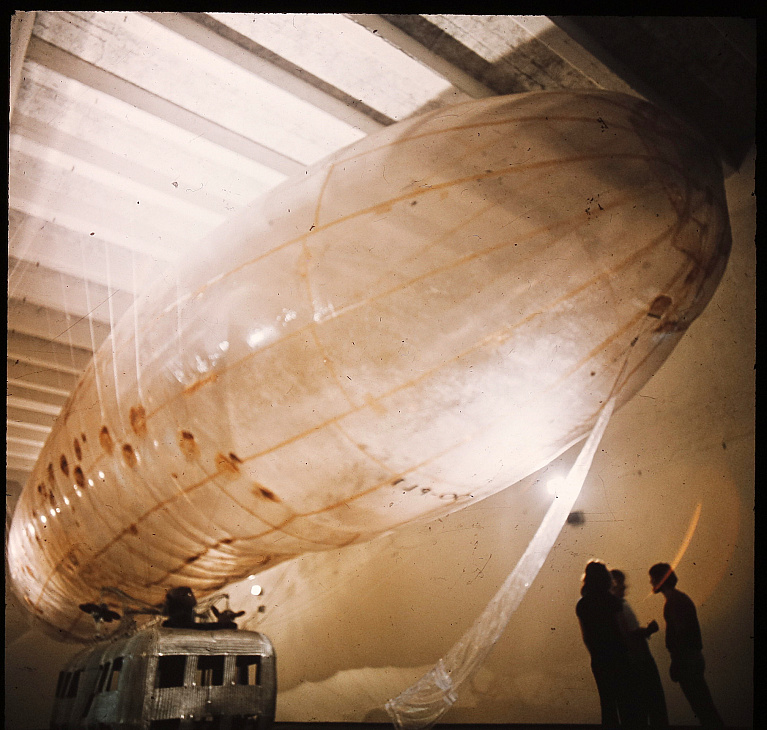 © documenta archiv / Stadt Kassel