#24 Gunter Demnig: From Kassel to Paris
July 2018
© documenta archiv
In 1980, the artist Gunter Demnig (born 1947) laid down his scented trace "DUFTMARKEN CASSEL - PARIS DEMNIG 80" from the Kunsthochschule Kassel to the Centre Pompidou in Paris. His "mobile sculpture" consisted of the text in continuous printing that was applied to the street pavement with the help of a banner printing device. He marched 818 km on foot in 21 days in protest against the blind record hype in the art business. In "Der Spiegel", which commented on this action on September 15, 1980 in issue 38, one could read: "Expected material wear: 3 pairs of shoes and 1.5 tons of paint". On October 4, 1980 Demnig got arrested by the French gendarmerie, but was allowed to continue after lengthy interrogations. The trace was included in the Guinness Book of Records after completion as the longest work of art in the world. The equipment, the banner printing device, is now in the collection of the Centre Pompidou.
Demnig also became known for "laying traces" in subsequent projects. 1981 with the "Blood Trail", which he laid down from the Kunsthochschule Kassel to London's Tate Gallery using his own blood. In 1982, by spanning an "Ariadne thread" cross country over 1000 km from Kassel to Venice and also with the "stumbling blocks", which still make visible the traces of the memory of the Jewish population murdered under the fascist regime throughout Europe today.
Under the title "Gunter Demnig: Spuren" a publication designed by Demnig himself was published in the early 1980s. It documents his early trace projects and is now part of the documenta archiv's library. These and other publications designed by Demnig and published by Atelier Kramer at the Kunsthochschule Kassel are part of the estate of art critic Alfred Nemeczek (1933-2016), which is also in the documenta archiv. In the early 1980s, Demnig was Harry Kramer's (1925-1997) research fellow and worked very closely with his students. Kramer said about Demnig's art in 1980: "This art is initially concerned with the reception of its own actions. It asks questions without providing polished answers, draws a network over the maps to test whether it is viable."
Anja Ziegler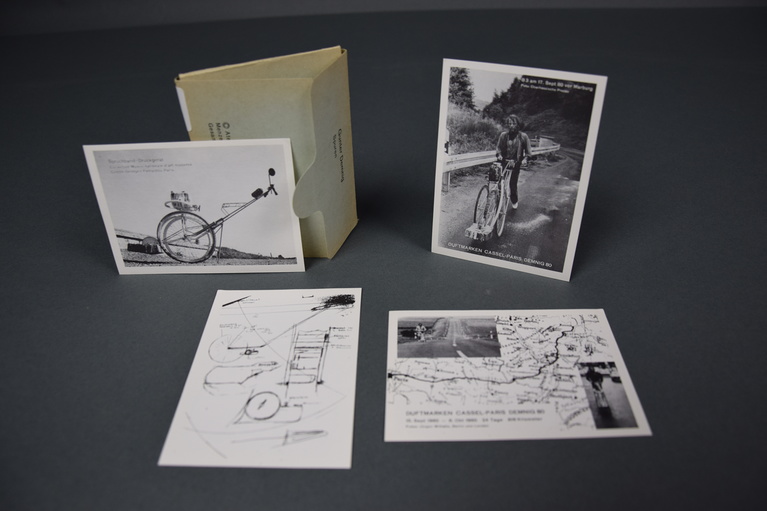 © documenta archiv
© documenta archiv
© documenta archiv