#15 Hans Hillmann: US Sketches - San Francisco, '78
October 2017
© documenta archiv / Hans Hillmann
In 1975 Hans Hillmann (1925–2014) had the idea of trying to tell a story in images while making only sparing use of text, and he decided that the succinctly worded crime story story "Fly Paper," written by Dashiel Hammett (1894–1961) in 1929, would be a good starting point for developing this idea. Hillmann began to look for places that replicated the atmosphere that he had sensed when reading Dashiell Hammett's literary work. After traveling through the US in 1978 and 1979, spending almost all of his time in New York and San Francisco, he rejected his original idea of setting the story in a fictional major city compiled from elements of Catania, Frankfurt, and London.
"Sketches and photographs that I made during my extended walks through this city [San Francisco] served as the basis for renderings of typical American streets, plazas, city panoramas, stores, and bars."
The small hotel rooms where he usually made his sketches corresponded to the bare atmosphere of the rooms where Hammett's narrative plays out. These sketches and accompanying notes are preserved in the documenta archiv as a collection of unbound sheets of paper. In portfolio 32 of the Hillmann estate one finds information on the streets that Hillmann wandered along and sometimes also interesting details, such as a note on prevailing light conditions as well as the first sketches for his work Fliegenpapier (Fly Paper). In these materials his travels can also be traced through very useful, everyday travel tips, such as information on public transport or tipping. He made his way through San Francisco with the help of an "unorthodox guidebook, which only included points with interesting views, bookstores, and bars". The guidebook, Franz T. Hansell' s An Opinionated Guide to San Francisco (1974), is included in his estate.
We are pleased to present the graphic novel Fliegenpapier on November 5, 2017 at 5 pm in Gloria Kino Kassel as a so called comic s-concert performed by Yam yabasha ensemble from Berlin.
Berlind Schneider
© documenta archiv / Hans Hillmann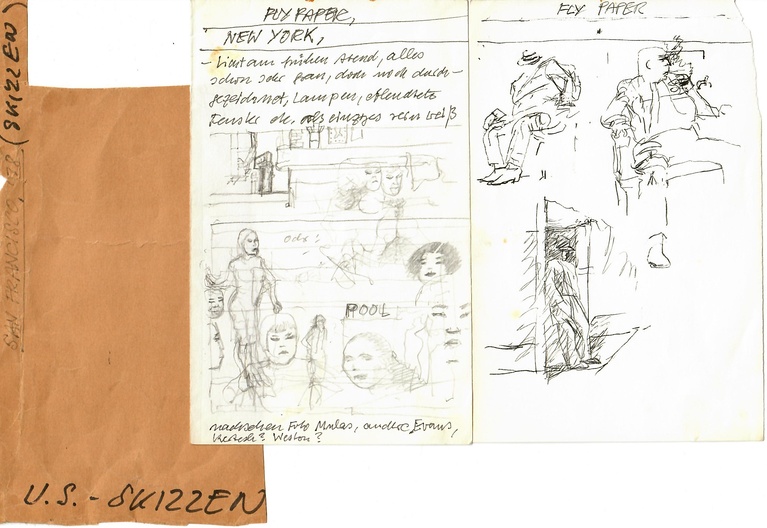 © documenta archiv / Hans Hillmann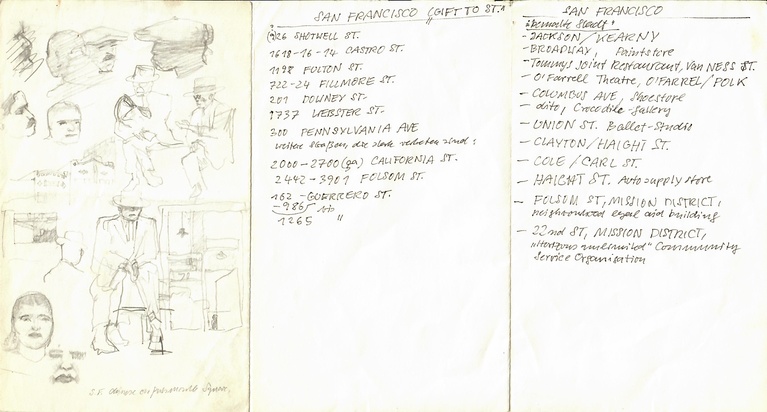 © documenta archiv / Hans Hillmann
© documenta archiv / Hans Hillmann